Car Detailing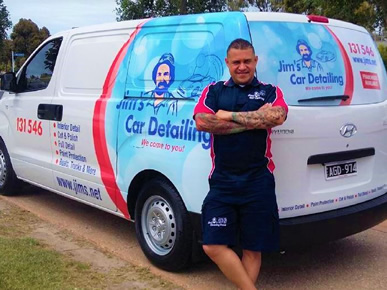 We are mobile car detailing & auto detailing specialists! We are a portable automotive cleaning business, providing flexibility for your convenience. Our local Franchisee are experts in their chosen field, because it's locally own & run by your local neighbour, you will get the best results with passion towards your vehicle. You can trust Jim's vehicle detailing and automobile detailing.
Washing, cleaning, vacuuming and polishing your car can be very tedious tasks, especially if you would want to relax during the weekend after an exhaustive week of work and no play.
This is where Jim's Cleaning come in. Rather than doing the grimy hard work yourself, contact us for professional car detailing service that accommodates your busy schedule.
Our car detailing and cleaning packages are signature services of Jim's Cleaning; they're one of our most popular and in-demand cleaning packages right around the country. Jim's car detailing and cleaning are professionals who love cleaning all makes and models of cars. We take pride in bringing them back to their former glory! We can get the best vehicle detailing results for your car with beautifully glossy and slick paint, sparkling chrome and newly shampooed leather and upholstery! We'll ensure you drive away with a wonderfully clean car.
Benefits of vehicle detailing & auto detailing
Having your car detailed can help to protect your car and make it to stay cleaner for longer as we remove any contamination that can wear down your cars finish.
What Jim's detailing & auto detailing can do for you
Car detailing can help retain the value of your car as a well presented car will always sell better and a detail takes things to the next level with cars often looking better than new and standing out from the rest.

Our Services:
Find our services in your area:
Get your free quote now - just fill in this form and a Jim's Cleaning Franchisee will contact you: