Pressure Cleaning Franchise
PROFITABLE PERFECTIONISTS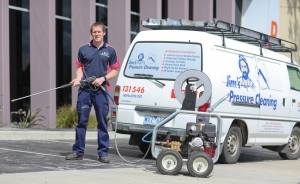 If you prefer to work outdoors than a Jim's Pressure Cleaning franchise could be just what you're looking for. Pressure Cleaning franchisees are specialists in exterior and hard surface cleaning.
Types of Work
With a potential client base of every home office and factory in your area the demand for pressure cleaning services is huge. Clients are commonly a mixture of domestic homes and commercial businesses, including offices, shops, factories and more. Most clients prefer to book regular cleans every 6 -12 months.
Pressure Cleaning work can be as varied as pressure cleaning domestic driveways, roofs, paths and house exteriors to factory floors, walls and car parks.
Pressure cleaning franchisees are also able to provide interior and exterior window cleaning services. Pressure Cleaning and Window Cleaning services compliment each other perfectly as each service creates more potential work for the other. In time franchisees have the option to specialise in one area over the other if they choose.
Who it Suits
A Pressure Cleaning franchisee can come from any background. She or he will possess good communication skills and enjoy dealing with people. Work is both outdoors and indoors so people after a varied day will appreciate the changes in scenery. Franchise owners don't need to be working at heights unless they choose to, so this is never an issue.
Business owners without a fear of heights may also expand into offering facade maintenance for highrise buildings. They can employ teams for both work and quoting or sales. Pressure & Window cleaners also commonly assist general cleaners with their specialised skills.
Pressure Cleaning just might be the choice you were looking for!
Send us an enquiry below for more info and be in contact by our Franchisor.