Oven Cleaning Services
We, at Jim's Cleaning, can understand how oven cleaning can seem like an overwhelming task. It can seem like hours on end that you will be sitting in front of your stove, scrubbing away. Luckily, with Jim's Oven Cleaning Services, we have professionals who are experienced when it comes to removing built up grease and food residue from your oven. We can make your oven look and smell like new again. This will give you peace of mind and contribute to maintaining a clean home.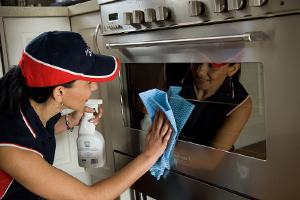 Why trust Jim's cleaning?
Professional service: Each franchisee is professionally trained and will always do a quality job. We also supply and use all of our own cleaning equipment.

Reliability: We turn up on time every time! If we are running late than we will always call you in advance.

Security: Our franchisees are fully insured & police checked for your security and safety.

Price: We offer a great service for a fair price.
Oven Cleaning Products
At Jim's, we only use 100% environmentally safe products for each type of appliance. Your kitchen will be safe and free of fumes. Fat and grease is one of the main culprits for making your oven dirty and have a smell to it. Our products will cut through the grease, fat, and burnt food, and at the same time protecting the coating surface of your oven.